Cats have been the subject of some very amazing works of art. Our feline pals have been featured in the arts for almost as long as humans have been generating images, from ancient Egypt to internet cat memes. However, an English artist named Louis Wain helped usher in a new age in kitty art in the late nineteenth century.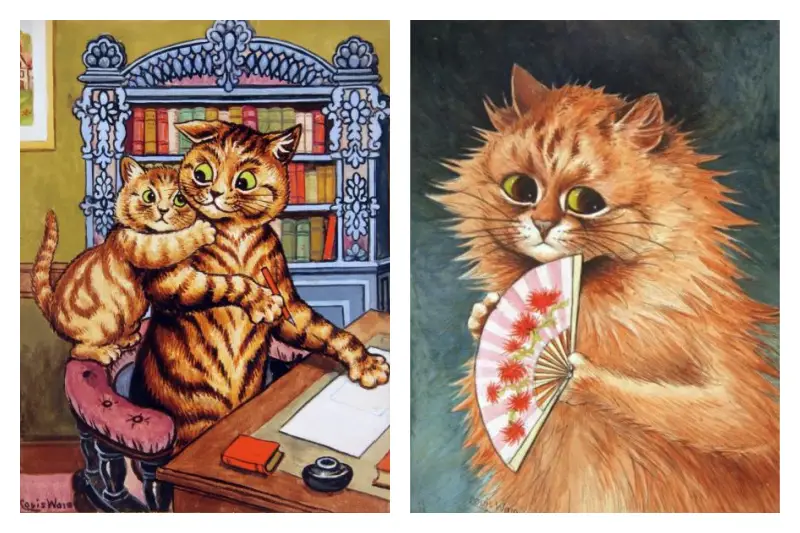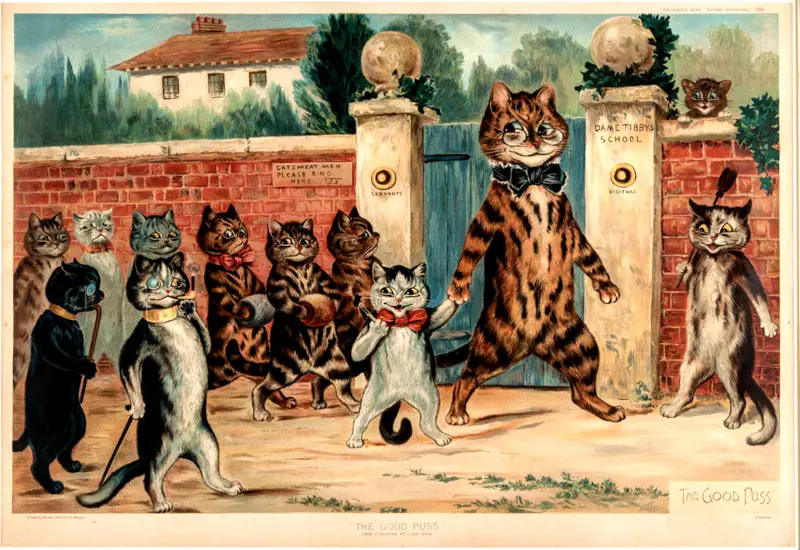 Louis Wain, the oldest of six children, was born in 1860. He studied at the West London School of Art after a childhood marked by financial and mental problems. After his father died, he quickly grabbed a teaching job to support himself, his mother, and his sisters. Wain's passion for the visual arts began at a young age, and he would eventually abandon his teaching position to pursue a career as a freelance artist.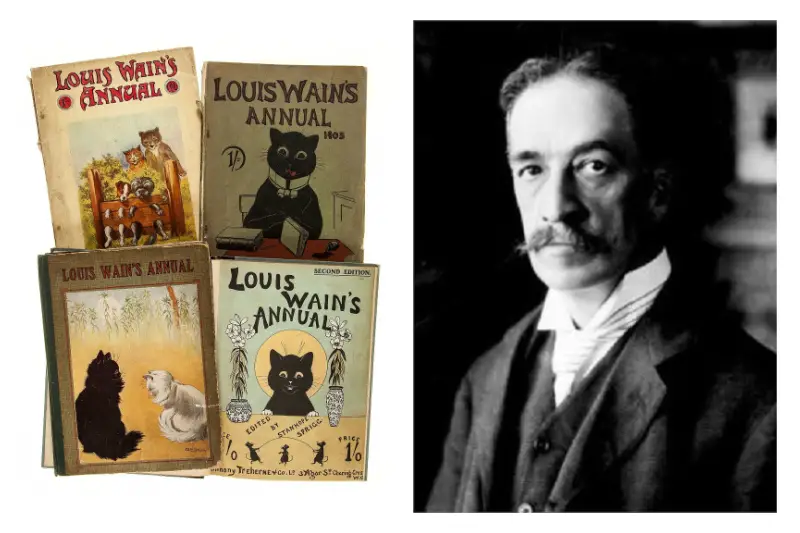 As an illustrator for several English newspapers and magazines, Wain's time helped hone his drawing skills. His early commercial work throughout the 1880s featured intricate depictions of English country estates and landscapes, allowing him to sharpen his keen eye for detail. Additionally, he was often commissioned to draw livestock at farm fairs and agricultural shows.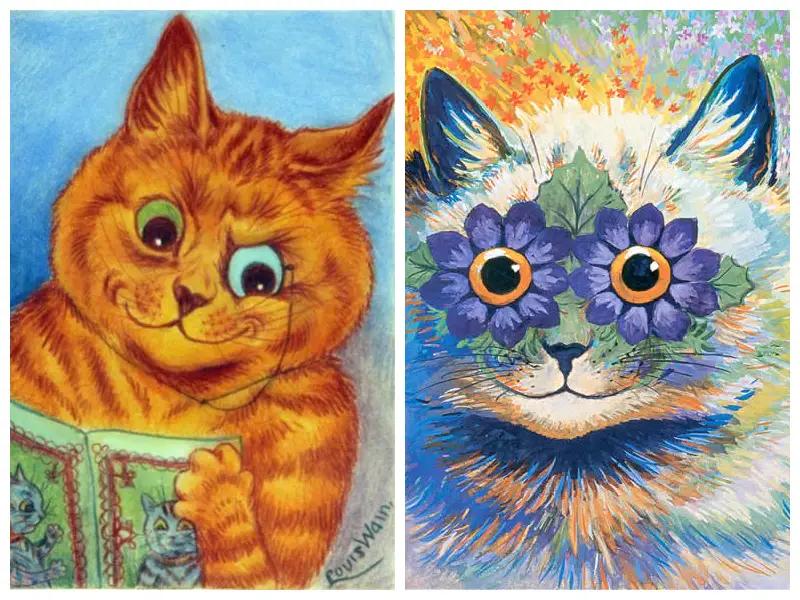 Wain married Emily Richardson when he was 23 years old. Wain rescued a stray black and white tabby named Peter after his wife became unwell. Emily, who was suffering from breast cancer, found comfort and delight in Peter's company, and her husband began painting sketches of their shared memories. Emily died of her sickness after three years of deteriorating health, and Wain wanted to keep drawing cats as a monument to his late wife.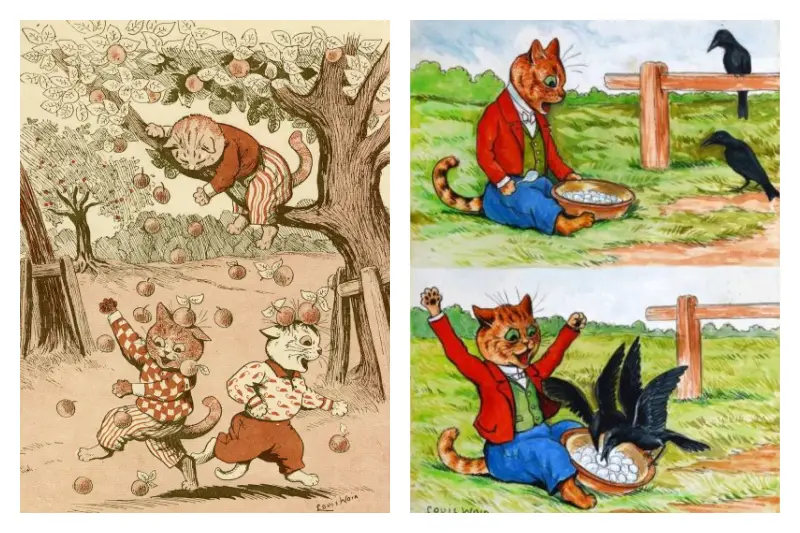 Cats did not receive the same amount of affection and attention as they do today in Victorian England. Cats mainly were used as utilitarian animals, capturing mice and little else. Dogs were far more popular as pets, hence they were rarely kept as pets. Instead, stray cats prowled the bustling industrial streets of London and other modern towns, posing a nuisance to shopkeepers.
Louis Wain's work helped to disprove that misconception. Wain's cat paintings began to delight the nation in 1886, when he was commissioned to create a Christmas spread for the Illustrated London News. His fanciful works included anthropomorphized cats enjoying games, drinking tea, smoking, and, perhaps most importantly, donning lovely costumes in a brilliant parody of contemporary English culture.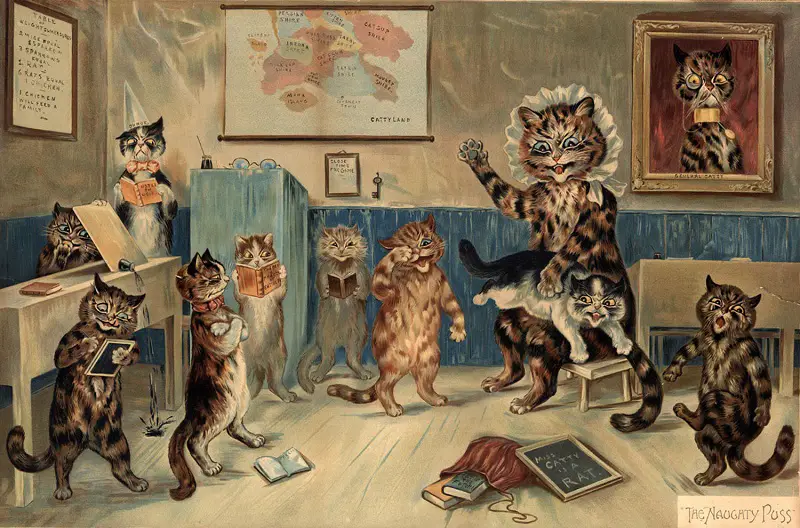 Wain's cat drawings were soon all over the place. On greeting cards, postcards, collector prints, and newspapers around the country, kittens were seen playing cards, riding bicycles, and attending the opera. During his most productive time, Wain produced hundreds of drawings per year. His one-of-a-kind drawing technique, which involved holding a pen in each hand, allowed him to produce as many cats as the market requested.
Despite his increased reputation, Wain struggled financially throughout his life. He would sell his paintings for mass manufacture without copyrighting or otherwise protecting them. His mental health troubles may have worsened as a result of his poor finances and unrelenting production.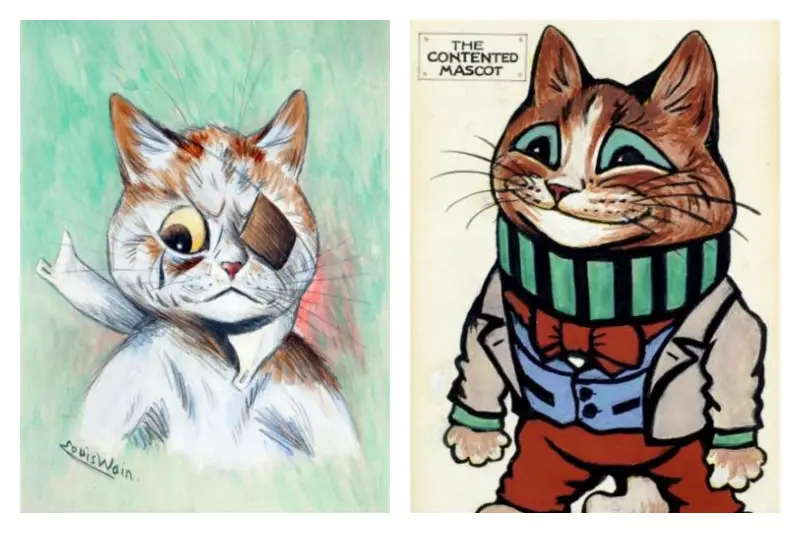 Wain was diagnosed with schizophrenia in 1924 and committed to a psychiatric institution. Wain continued to draw while incarcerated, which eventually drew public attention and shed light on his tribulations. A public campaign led by his supporters and admirers eventually reached Ramsey Macdonald, the then-Prime Minister of England, who arranged for his relocation to better facilities for continuous care. In recognition of Wain's commitment to the arts, Macdonald also provided a regular stipend to his surviving family.
Wain's art became more abstract and experimental in his later years, which some attributed to his worsening mental health. His cat drawings began to include bright, eclectic embellishments, which marked a change from his usual comedic approach. Louis Wain died in 1939 at the age of 78, after creating hundreds of works of art over nearly half a century.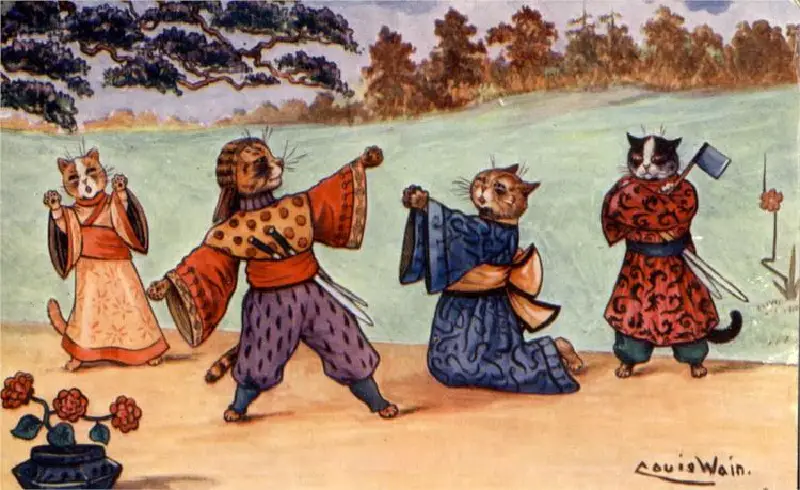 Wain's large body of work is still on exhibit in museums and private collections around the world. His drawings are completely in the public domain, and they can still be found on postcards and prints. Cats have received a major revaluation in the public eye as a result of his efforts, and we still enjoy dressing up our feline friends and imagining them leading lives similar to our own.
Cat portraits, in the noble tradition of Louis Wain, are a popular technique to immortalize our feline companions. Hanging cat art in your home is a terrific way to create a cat-friendly environment that reflects your passion for all things four-legged and feline. A Louis Wain print, as well as commissioning your own custom-made cat portrait, make excellent holiday gifts for art-loving cat owners.