This is a story about how we got to share our home and lives with Paul.
In the spring 2015, I was part-time serving samples in local grocery stores. I was returning home from work on Saturday afternoon when I saw what I thought was a mouse running across four lanes of busy highways and making it to the other side. I looked again and noticed that the legs were somewhat spread apart and that the tail was sticking straight out. It was a tiny kitten, I discovered to my horror.
I got home and told my husband that I'd seen the kitten and was going to try to rescue it. My husband is an angel, and offered to go with me. We walked all the way along the green belt near the highway, which also had a large ditch/culvert. It was a May weekend that was expected to bring a severe rain storm. I knew that this storm was coming in a few days. It was supposed to be a gully wash.
We saw the kitten twice but, as it was wild, it wouldn't let us near it. We borrowed a trap trap from a friend and put some soft food inside it. The kitten was left there overnight. After a restless night, we returned early the next day to find it was already raining. The food was still intact and the trap was empty.
We walked up and over the green belt, removing all brush and looking as deeply as possible, but we saw no trace of the kitten. It was beginning to rain more and we knew that this was going to cause severe weather conditions. The kitten could drown because the culvert would become flooded by water runoff from highways. We sadly had to accept that we couldn't find a kitten.
My husband was heading back to the car, and I was walking beside him. I meowed a few times, just as if to show my desperation. Surprised, a tiny kitten answered me from the thick brush.
I began pushing aside tall weeds, scrubby brush, and cactus to get to the tiny meow. Lo and behold, I saw a soaking wet, filthy kitten up ahead of my eyes!
I grabbed the kitten with my balance intact and made my way back through my brush carefully.
My husband was unaware that I was doing this, as he had already returned to the car and the roaring traffic had stopped him from hearing my words.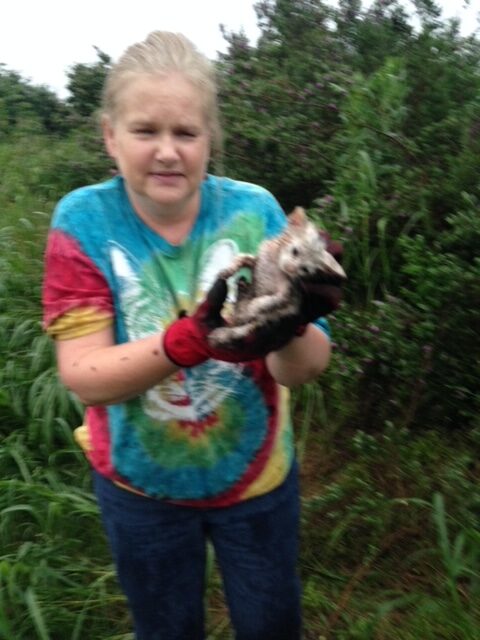 My husband took this photo of me holding the kitten as I emerged from the brush. You can see that my arm is bleeding and that there are stickers on my arms. But I got my kitten!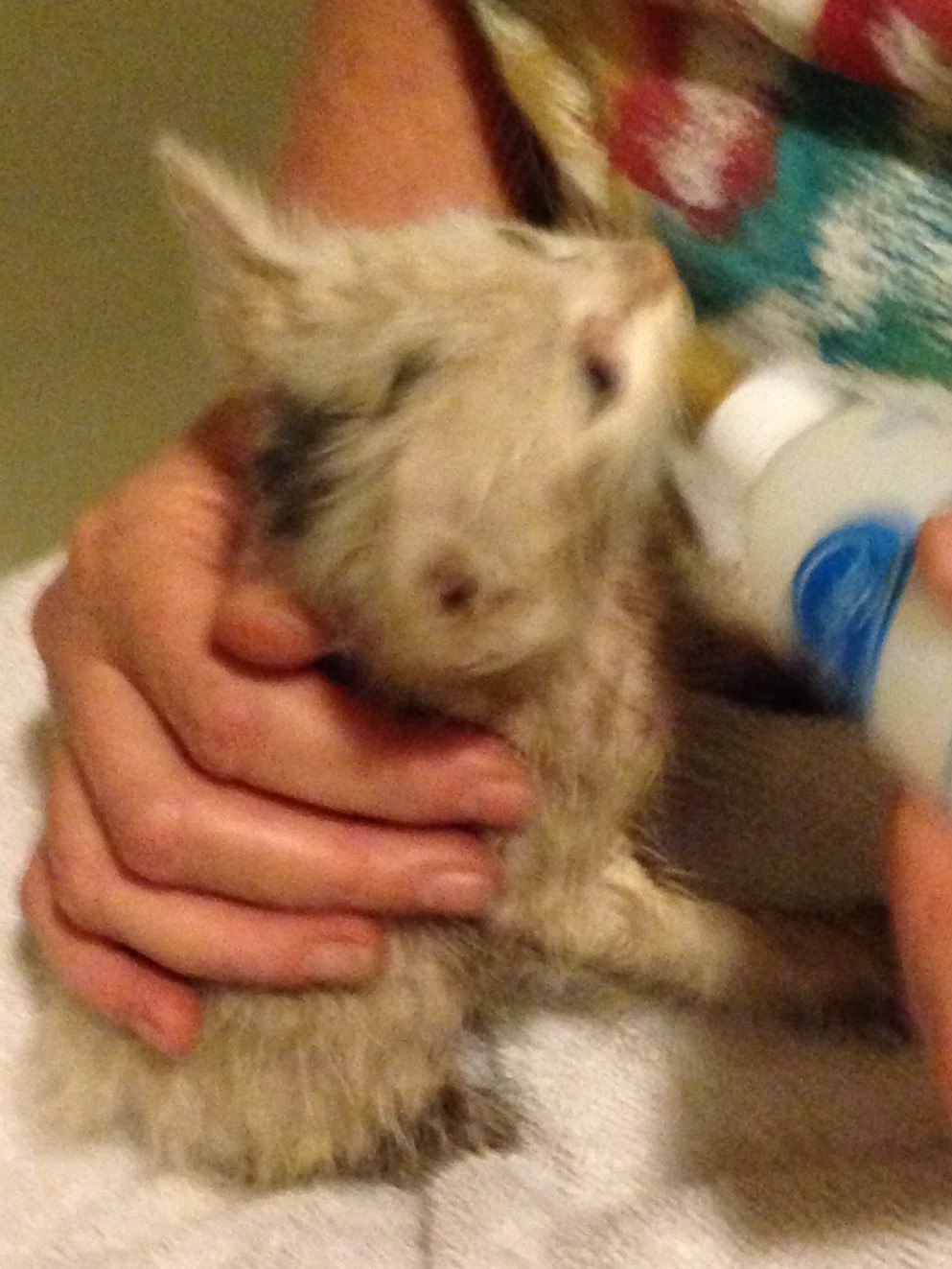 Paul was given a bottle of water to drink before he went to bathe when we brought him home.
We all got in the car and were all soaked to the bone when we realized our baby was a boy. We loved the Family Guy cartoon character of mayor Adam West (R.I.P. Adam West. There is an episode where he has a cat named Paul and laughs that it's such a ridiculous name for a cat. So, we named our kitten Paul.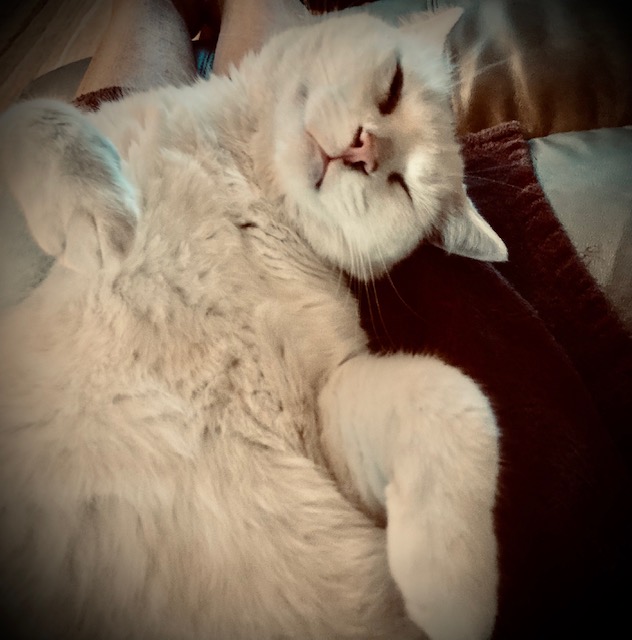 Paul is the most expressive cat I've ever seen. We have a 20 year old girl kitty name Mitty who has one facial expression whether she's happy sad or sleepy.
He is the owner of the place and keeps Mitty on track. But he also cares for her and watches her when she goes out on the back patio.
Paul is seven years old now and I hope to spend at least seven more years with him.
We did our best to rescue this kitten, but he has been a blessing in our lives. We love him dearly.
Paul is a photogenic man in his Viking cap
Paul guarding and chewing Christmas presents – 2021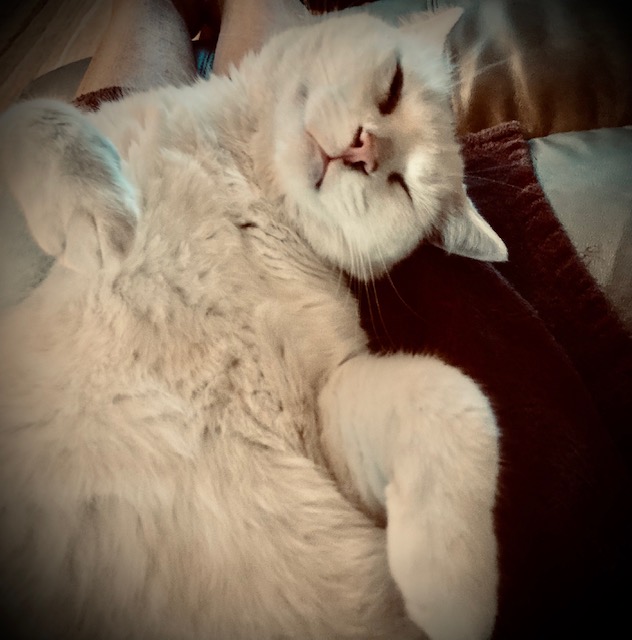 Happy fat boy snoozing on my lap.
My 20 year old – Queen Mitty